by Jessica Murphy
From a young age, Dr. Ann McCleary, professor and director of the Center for Public History (CPH) in the University of West Georgia's Department of History, has demonstrated a passion and appreciation for history and preservation. This passion has carried on with her through the years, with each day bringing new knowledge and a new appreciation for public history.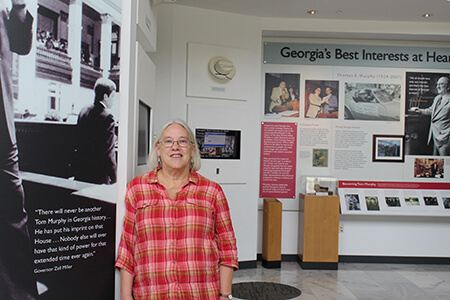 "I always loved museums," McCleary said. "As a child growing up, my family went to a lot of historical sites. My parents and grandparents loved history. My grandmother always told stories about the history of her community, where she grew up and what her life was like, so I think I just grew up with that."
At first she thought going into the history field meant becoming a teacher. However, after spending a summer in Deerfield, Mass. working in a museum, she realized her career might take a different turn.
"I realized I could work in museums," McCleary said. "I sort of shifted and decided to go into public history. The field was just evolving at the time, and so that is what I wanted to do."
When she started working at UWG, McCleary realized she was able to combine teaching with working on history projects.
"I'm a full-time faculty member," McCleary said. "We have a graduate program in public history, so I teach courses in that. People don't realize it—they think we just do projects, but we are full-time teachers."
McCleary was able to bring her love for public history to the university by creating the university's public history program. This eventually led to the CPH a few years later.
"The fun thing about public history is that everything that comes up is slightly new, so you get to challenge yourself in different ways," McCleary said. "I really like that. It is always evolving and you are always getting practice and doing new things."
McCleary enjoys being able to work as a full-time teacher and doing projects for CPH because of how they correlate with each other. Being both a teacher and a director for historical programs means she is learning new things that she can apply to each project.
"When I went back to teaching full time, I'm not sure I would be fully satisfied if I wasn't also doing project work," McCleary said. "When you do project work, it keeps you current with how the field is evolving. It keeps me current, and it makes me a better teacher because I am actually doing this work at the same time I am teaching it, so I feel like I understand it."
She also credits UWG with the opportunities she has had to work in a field she loves.
"What I like about West Georgia is that they have been really supportive of trying new things and being creative, and I do appreciate that," McCleary said. "I have sometimes brought unusual ideas to a lot of people, but I will say they have been really supportive. They increasingly understand that public history is good for the university."
In addition to working at CPH and teaching, McCleary also helps curate an exhibit at the Smithsonian, conducts research for all the projects she manages, serves on a student thesis committee and directs a program with the Atlanta History Center.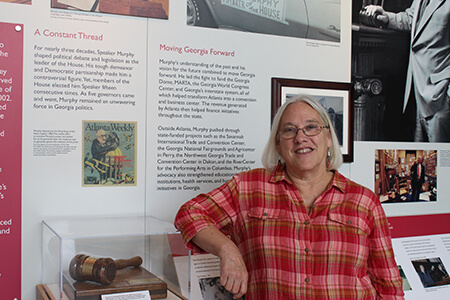 McCleary is also able to demonstrate encouragement, support and dedication to students, both undergraduate and graduate, through the internship program at CPH.
"Part of the goal for our work here is to train students so that they can go out and work in the field of public history," McCleary said. "We have always been really proactive in including graduate students and undergraduate students into as much of the project work as we can."
Through this internship and the history classes, students are able to realize their potential and the opportunities the history field presents.
"My major is history and my minor is African studies, and with that everyone thinks you're going to be a teacher," Leka Labat said, rising senior and intern at CPH. "But, by taking the public history class, I realized there is more to it than just becoming a teacher."
This internship also provides the interns a chance to learn more about the community around them and all it has to offer.
"My favorite part has been learning about the history of West Georgia," Labat said. "They don't teach you that, and just because you go here doesn't mean you know what it took to establish West Georgia, how many names it has changed to and the integration of everyone here. It was a really big step for West Georgia to become what it is today."
Posted on