by Bryan Lindenberger
Rediet Asrat excels at more than computer science. She knows how to turn a major challenge into limitless opportunity.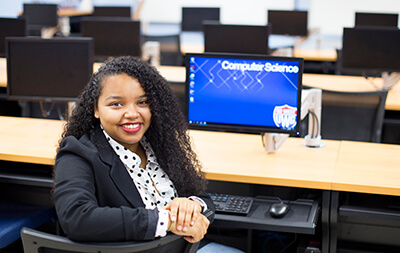 "No, sorry – we are not taking your credits," Asrat heard from her high school when she moved to the United States from Ethiopia. She expected to enter the final semester of her senior year. Instead, Asrat found herself pushed back to the 10th grade.
"It was one of the greatest things ever to happen to me," Asrat said. "I actually do not consider that a setback, but a blessing to make decisions I was afraid of making. In my case, I was afraid of taking the STEM route."
Like many young women, Asrat was curious about science from a young age, but intimidated by the academic side including mathematics.
"I've always broken down my toys to see what was in them," she said. "I've always wanted to create or to understand why things work, but I was afraid of joining the STEM field."
Four years ago, Asrat's setback – or second chance – at high school math and science provided her the confidence to leap into the field. Upon graduation, she was offered bold new possibilities in exploring and engaging her interests as well as leadership opportunities through the University of West Georgia's computer science program.
Today, Asrat, a sophomore majoring in computer science with a keen interest in application development, serves as president of Computer Science Women of West Georgia, popularly known as CS WoW.
An informal collective of UWG faculty and students, CS WoW serves the purpose of increasing interest in computer science among women at UWG, while offering support and participation in computer science events. It does not require a student to major in computer science.
"We intend for this organization to provide support and mentorship for women," said Dr. Adel Abunawass, professor and department chair for UWG's computer science program. He noted the unfortunate lack of participation of women in computer science and brought the idea of CS WoW with him from Western Illinois University when he came to UWG in 1999. He sees the organization as serving a solid role in developing interest in computer science, but also in terms of retention.
"We have great successes in terms of supporting women in computer science," Abunawass explained. "They go to go to conferences like Grace Hopper Celebration of Women in Computing, which is the largest computer science conference in the country. They go to hackathons where people come together to solve a problem. Just this past fall, they attended Goodie Nation's Hack the Violence."
At Hack the Violence, CS WoW collaborated with another UWG computing club, the Association for Computing Machinery, to develop a messaging chat bot called Amiglo for use by nonprofits. The team designed the bot to interact with and update international students about frequently asked questions such as open job opportunities, important visa information and school regulations through a messaging app.
These and other advanced computer science opportunities for women of UWG did not happen overnight.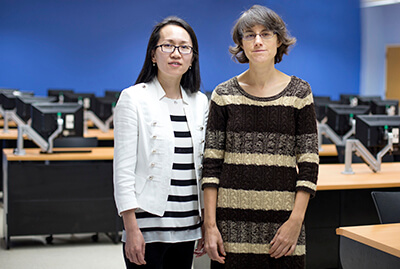 "I became conscious of the lack of women in computer science when I was the only female in the classroom," Remshagen recalled. She became interested in the topic of supporting more women in computer science and found her department highly supportive. Her passion grew. "I think women should be just as much of developing software because it is what everybody is using."
Yang concurred. Attracted to UWG by its student-centered emphasis on teaching, she helped Remshagen develop the social support aspect of CS WoW. For instance, noting some students struggled with certain introductory courses, she helped create study sessions in more relaxed settings.
"Also, we invited women with careers in computer science to speak with the women," Yang explained, noting that one of these women was UWG's own Annemarie Eades, vice president for information technology services (ITS) and a shining example of the possibilities in store for women who aspire to work in computer science. "Our purpose with CS WoW is to encourage women to explore this field. We want to build a network to mentor them."
A culture of inclusion and support has been built at UWG over many years and with great feeling and group participation. One clear signal of progress for women in computer science can be found in the faculty itself.
Remshagen noted that when she started at UWG, she was the only female in the department.
"Now we have four female faculty," Remshagen said. "This makes for me a quality of life difference."
In fact, with the recent hiring of Dr. Ana Stanescu, department faculty are now comprised of 40 percent women.
"That is large for University System of Georgia, but it is also large nationally," Abunawass explained.
Like Remshagen and Yang, Stanescu, who joined UWG's the department as an assistant professor in August 2017, was attracted to the UWG's emphasis on teaching and also placement of the program in the college of math and science rather than arts or humanities, as is often the case.
As a goal, she wants to assist women in computer science.
"There is a lot of talent with females that is untapped," Stanescu said. "I was nearly always the single girl in my [computer science] class. So I get it. Why it's hard to feel that you fit in. I want to reach that 50-50 ratio."
This culture of mentorship and inclusion of women at UWG has culminated in greater retention and scholarly achievement for women attending computer science at UWG, but progress does not end there.
Real-world outcomes of the program are expansive. Alumnae have started their own tech companies and found rewarding careers at many tech firms including local businesses such as Greenway Health, VL7 Solutions, Systems & Methods, Inc. (SMI) and others.
Asrat, meanwhile, has barely begun her college career in computer science. Already she has leaped in and hit the ground running. She joined CS WoW as a freshman after a web search simply to find clubs to join.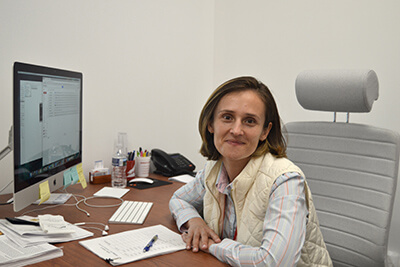 By the time she was a sophomore, she had a scholarship to join 18,000 other women in Orlando at Grace Hopper for five days and hear keynote speaker Melinda Gates. With more than two years remaining until she earns her degree, she has not run short on plans.
"We plan on joining with another organization, such as UWG College Girls Rock, to create an event together," Asrat said, seeking opportunities to network and expand awareness of women in computer science.
As for her post-college career, Asrat remains interested in web and app development. Regardless of the computer science niche she chooses, her confidence, curiosity and courage ensure to take her far, but it's her interest in helping others that sets her apart from the crowd.
"Our mission in CS WoW is to increase the interest in computer science by encouraging participation in computer science," she said. Her motive seems clear in helping women get over any fear of science that once inhibited her as well. "Anyone is welcome to join as long as they are interested, willing and able."
Posted on