by Bryan Lindenberger
Jesica Sarfo followed in her father's footsteps at two pivotal times in her life.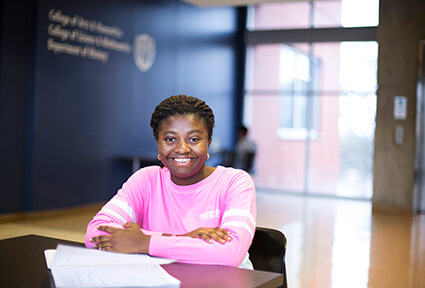 The first time happened seven years ago, when she, her mother and five sisters moved from Ghana to the United States, where her father lived.
The second came with her decision to become a petroleum engineer.
"I chose oil and petroleum engineering mainly because of my dad," she said. "He's a truck driver. He does some oil field work, and he encouraged me in that direction."
Sarfo – the first in her family to attend college – approaches this opportunity with singular purpose and clarity.
"There is a saying among elders back in my hometown in Ghana," Sarfo said. "'Your younger siblings will consistently comply with your example and not your advice.' Emphasizing this saying, I have always had the mindset of bringing a light into my family."
Sarfo came to the University of West Georgia with an indomitable smile and clear determination. She wanted a chemical engineering degree from Georgia Tech. Upon careful investigation, she found UWG's Regents' Engineering Pathway Program (REPP) the best way to achieve that.
Almost immediately, Sarfo stood out from the crowd.
"When I received the call for recommendations of successful first-generation students, Jesica was an obvious choice," said Carrie Carmack, a UWG mathematics instructor.
After Sarfo completed Carmack's pre-calculus course with an A, Carmack took note of the young student's talent and provided her an opportunity to serve as a supplemental instructor (SI) in college algebra for Professor Eula Key.
"Her ability to connect with the students while helping them understand the material far exceeds my expectations," Carmack said. "I'm so proud of the work she is doing, and I have no doubts she will continue to be a successful student and an accomplished individual."
Similarly, Sarfo considers her advisor and chemistry department head, Dr. Sharmistha Basu-Dutt, a career-affirming role model.
"She, too, is a chemical engineer," Sarfo explained. "Her advice to me is phenomenal. I say this because of the pointers she gives me. She shows me the bigger picture of being an engineer."
Basu-Dutt speaks equally highly of the young woman she mentors.
"Jesica is an extremely motivated and conscientious student who is constantly looking for academic and extra-curricular activities to realize her career goals," Basu-Dutt said. "I am confident that her strong character and excellent work ethics will make her very successful in college and beyond."
Ultimately for Sarfo, however, her journey is all about setting an example of personal strength and accomplishment for her younger sisters.
"Being a first-generation college student at West Georgia has been an honor and a privilege," Sarfo said. "I hope to always meet people along my college journey who will guide me to the desirable path. I open my mind to future opportunities."
Posted on