by Julie Lineback
Dr. Melissa Johnston doesn't train your traditional librarian, and she has $387,000 to prove it.
With few media specialists exploring the STEM subjects (science, technology, engineering and math), Johnston dreamed big. She applied for the Laura Bush 21st Century Librarian Program grant from the Institute of Museum and Library Services and received one of the largest grants ever awarded to the University of West Georgia's College of Education.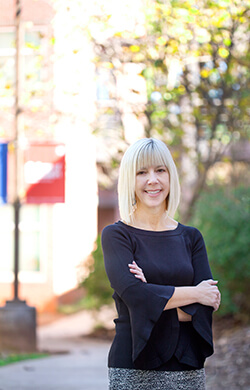 Working with a colleague from the University at Buffalo (UB), Johnston is assisting K-12 media specialists in rural schools.
"This grant is significant because it addresses a real need in the field of school librarianship and national priorities," said Johnston, an associate professor in the Department of Educational Technology and Foundations. "STEM education equips students with the skills needed to take advantage of career pathways in their regions, strengthens local workforce development, and increases employment opportunities."
The U.S. Department of Commerce estimates that by 2018, the country will have 1.2 million unfilled jobs in STEM fields, because the workforce will not possess the necessary skills to fill them. Johnston said this signals a critical need to expand student aptitude and increase career entry into these fields to advance U.S. competitiveness and economic growth.
"Therefore, STEM education is a focus in education," she said. "I believe that a school library media specialist equipped with advanced digital information skills, coupled with applied STEM knowledge, can engage students and support teachers by facilitating meaningful use of digital resources and, in turn, provide real world collaborative opportunities for STEM learning."
Johnston recognized the need to help school media specialists better facilitate STEM learning in their libraries was greater in rural areas. She chose specialists spanning rural Georgia, Alabama, Mississippi and Louisiana as her target population, while her UB counterpart, Dr. Dan Albertson, designated those in rural New York, Pennsylvania, Michigan, Ohio and Indiana.
Data from the National Center for Education Statistics and the U.S. Census Bureau indicate that rural schools enroll a total of 9.7 million children.
"While in very differing locations, the rural schools in the upper Midwest and western northeast states demonstrate some of the same challenges experienced here in the southeast," she explained.
The grant will support a training model and provide professional development on supporting STEM education for 80 school library media specialists in those areas. Targeted areas also have been ranked near the bottom nationally on National Assessment of Educational Progress science and math scores.
"Rural schools face many challenges with STEM initiatives—tight budgets, limited technological infrastructures, struggles with recruiting and retaining great teachers in STEM shortage areas, and few professional development opportunities for teachers," Johnston clarified. "Even in rural areas with resources and access to technology, there is a lack of educators who possess the necessary content, technological and pedagogical knowledge to facilitate applied STEM learning."
As part of the professional development, there will be two four-day workshops in summer 2018—one at the UWG Fusion Center and one at UB. There will be expert speakers on topics, hands on learning experiences and sharing of ideas for implementing in practice. Johnston explained the latter portion will continue throughout the next school year as the school library media specialists develop implementation plans back at their own schools.
"I am very honored to have received this grant," she concluded. "It is great to see an idea I have had for several years now finally come to fruition. It also was important to me to serve the communities around UWG and address the challenges of local school library media specialists."
Posted on