by Colton Campbell
Where most business owners see challenges, Sean O'Keefe sees hopportunities.

The CEO and co-founder of Pontoon Brewing Company – a current graduate student at the University of West Georgia pursuing his master of business administration degree – gets business done with a carefree attitude. It's all part of what he calls "the pontoon lifestyle."
Play video
O'Keefe speaks on how Richards College has helped him build his business.
"We want to convey that we may take our business and our beer seriously, but that doesn't mean we take the rest of our lives seriously," O'Keefe recalled, speaking on the origins of the brewery, which he founded with three longtime friends. "We wanted our business to be fun, approachable and enjoyable – just like a pontoon. No one is boarding a pontoon boat to show off or go fast. They're there to have a good time, just like us."

Pontoon Brewing opened its doors last December. The space – the first microbrewery in Sandy Springs – includes a taproom with an extensive selection of Pontoon Brewing beers and a back-of-house brewery in which more than a dozen varieties of beer are brewed, canned and stored.

O'Keefe earned a bachelor's degree in finance from the University of Florida, where he met the company's three co-founders. At age 19, his love for working with beer got its start when he landed a job at a brewery cleaning kegs.

"That helped build my work ethic, showed me the inner workings of a brewery and taught me what to do and what not to do," O'Keefe said. "I started home-brewing while I was working in finance, and beer became a passion project for me and my friends. I'm humbled by how far we've come since those early days and to see what we've built since then."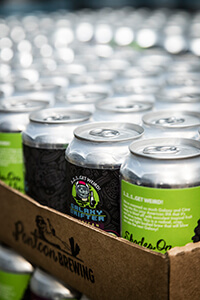 As an MBA student in the Richards College of Business at UWG, O'Keefe has been able to apply knowledge and skills he learns in the classroom to his Sandy Springs-based business almost simultaneously.

"To say the education at UWG is hands-on is an understatement," O'Keefe said. "I've encountered some truly amazing professors who have gone out of their way to help me with opportunities in my business by advising me on how to set up different aspects of the business. I'm able to use my professors' knowledge firsthand to help my business, and I've done it countless times."

O'Keefe, who intends to graduate in spring 2019, said those close relationships he shares with faculty members can open up new ideas he may not have had without attending UWG.

"Instead of just looking at a lecture presentation and hearing the hum of a professor's voice, you're engaged with what you're learning, and that's made a huge difference in what I've retained from my classes," he said. "Something I've learned about myself throughout the MBA experience at UWG is to intentionally home in on the things I care about and how I can apply them in real life with a scholastic intent behind them."

Pontoon Brewing has grown from a group of friends home-brewing beer to a contract-brewing enterprise to a brick-and-mortar facility where O'Keefe said he and his business partners can "brew [their] hearts out."

"We were always meant to be a neighborhood brewery, meant to service the communities where we live and work," said O'Keefe, a Douglasville resident. "I have some big goals and visions in sight for Pontoon Brewing, and they center on the idea of being approachable and fun."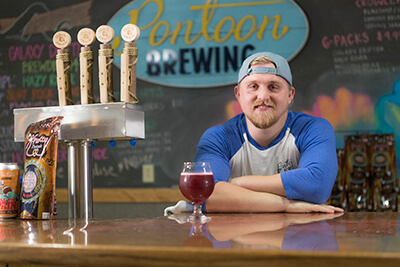 For O'Keefe, who could apply his business acumen to any number of business ventures, it all comes down to the product.

"Beer is something that is tangible, that you can put into someone's hand and know they'll love it and the story behind it," O'Keefe said. "There's also so much more I have to learn. I own a brewery and I've traveled the world to expand my experiential learning opportunities, but I still know a relatively small amount about this beverage I've poured my life and work into. Wanting to learn more about something I'm passionate about really drew me to this industry, and it's been amazing to transform my passion into a project that can put food on my table."

To learn more about O'Keefe and Pontoon Brewing Company, visit www.PontoonBrewing.com.
Posted on